The Quasimodo Pattern is also called Over & Under pattern. It is an advanced price action trading concept in the trading industry.
The Quasimodo pattern is more than a confluence pattern or entry technique than a trading strategy. It uses to confirm the trader's bias.
If you combine this pattern with your trading strategy, it increases your trading odds & boosts your confidence level. It helps you to make better decisions on time as well.
For example, If you spot a Quasimodo pattern near a level of support or resistance or with divergence, it increases the trader's confidence or trading probability.
Many supply & demand traders use this pattern to identify the strong tradable zones. When they find the Quasimodo pattern with strong supply or demand zones, they execute the trade with greater confidence. It provides a great Risk Reward ratio potential as well.
Quasimodo pattern does not appear all the time, but when this happens, traders should not ignore it. It is one of the most reliable and powerful patterns to trade.
What Is Quasimodo Pattern in Forex?
Quasimodo Pattern is also called as OVER & UNDER Pattern. It is a reversal pattern that is created after a significant obvious trend. When a series of higher high, higher low, or lower high lower low is interrupted, Quasimodo Pattern is created. It is a double-ended cheater strategy. It is used as an intraday price turning point. So the Intraday traders can use it as an advanced price action trading pattern.
Quasimodo is one of the most profitable chart patterns in the forex. It repeats itself all the time. The key is to identify, and most importantly, react to them, when the trading opportunity arises.
How do I trade Quasimodo?
Buy Trade Setup
Price creates a low
Price creates a high
Price breach the low and creates a lower low
Then price breach the high as well and forms a higher high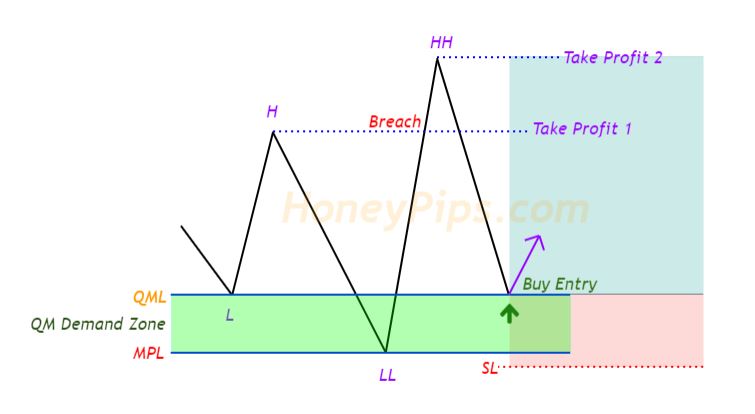 Now place your pending order (Buy Limit) at QML(Quasimodo Line)
When price comes back to the low your pending order will be triggered.
Place your stop loss just below the MPL (Maximum Pain Level).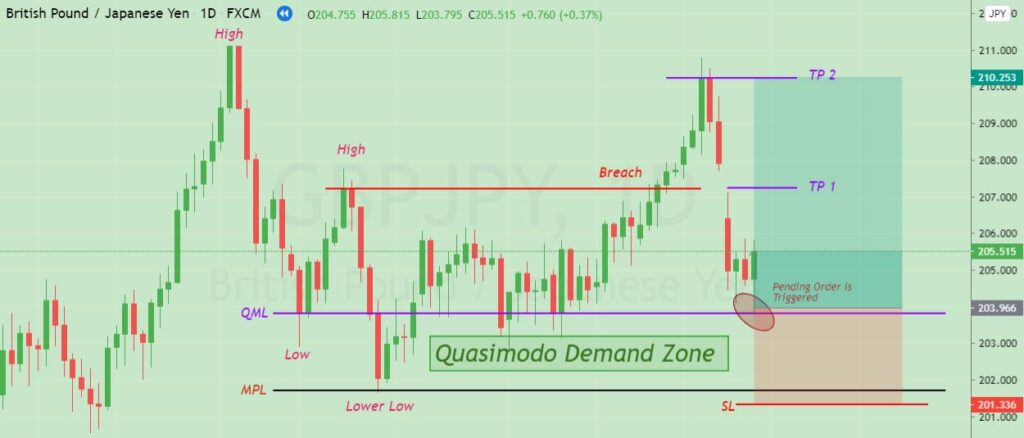 Here, a significant drop has occurred in the market. The market makes an obvious high and low consecutively. Then after making a Lower low it shoot up and breach the high to make a higher high.
The space between the QML and MPL considered as a strong demand Quasimodo zone. When price back to the zone our buy limit is triggered and look how beautifully price retraced from the QML level. It starts to go to our preferable direction.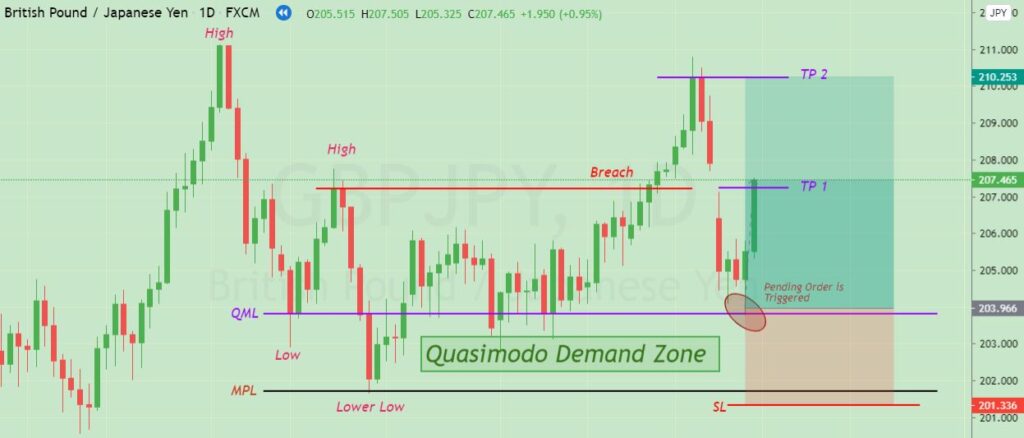 Our First TP is hit.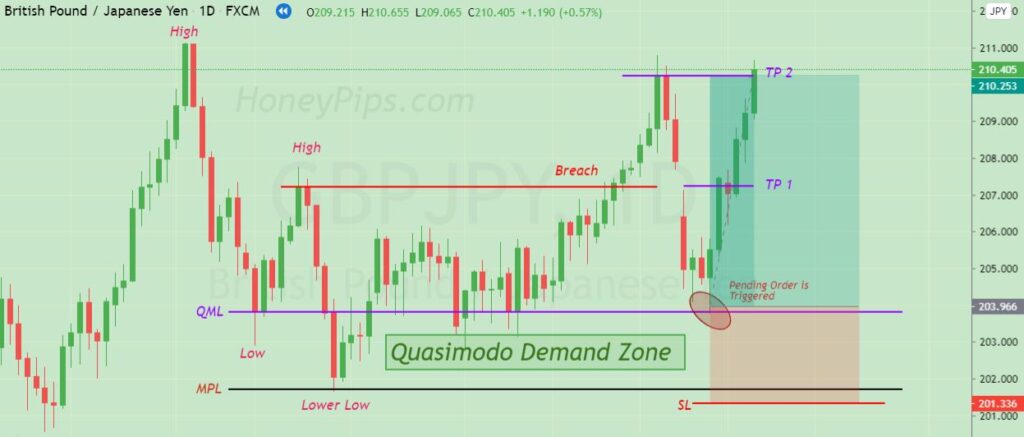 Second TP is also hit.
This trade had a great risk reward potential.
Sell Trade Setup
Price creates a high
Price creates a low
Price breach the high and creates a higher high
Then price breach the low as well and forms a lower low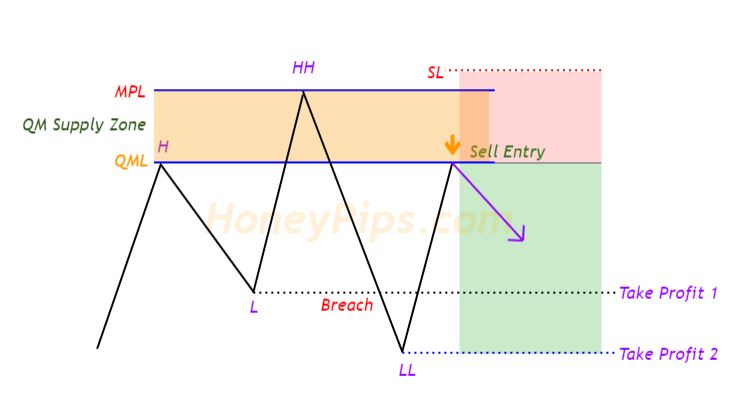 Now place your pending order (Sell Limit) at QML(Quasimodo Line) or execute a sell trade with your pre-planned entry technique.
When price comes back to the high your pending order will be triggered.
Place your stop loss just above the last MPL.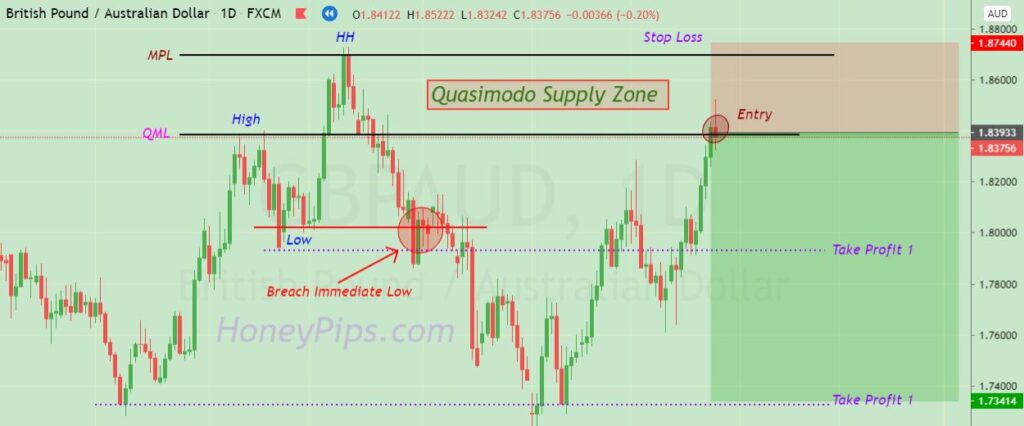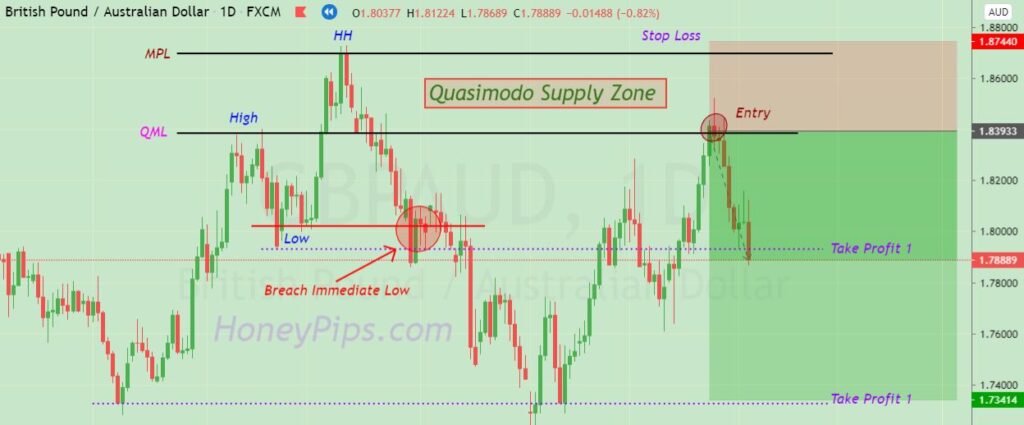 Take Profit
Take your profit up to the next trouble area. Breached high or low should be the minimum target area. 1:3 is a standard risk-reward ratio that can be applied in this price action trading strategy.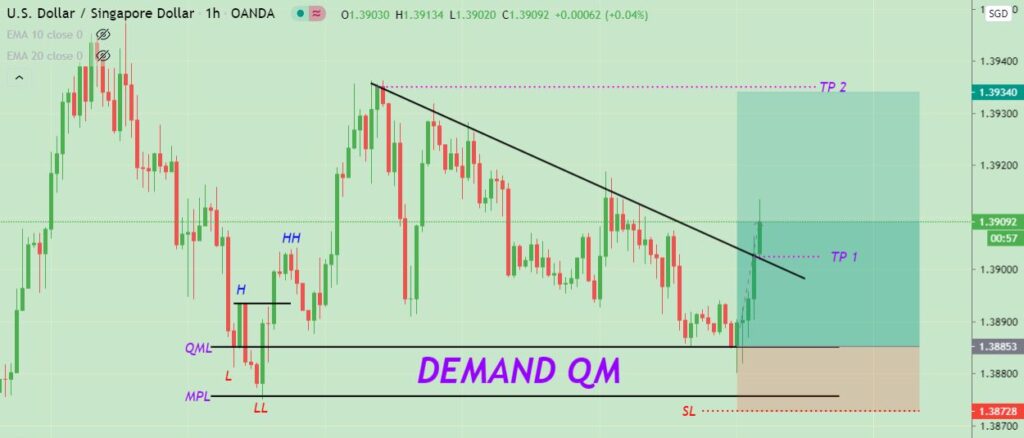 Is Quasimodo Head & Shoulder Pattern?
Though Quasimodo looks like the Head & Shoulder Pattern, it is distinctive from the typical Head & Shoulder Pattern.
Hope the sketch below makes sense to you.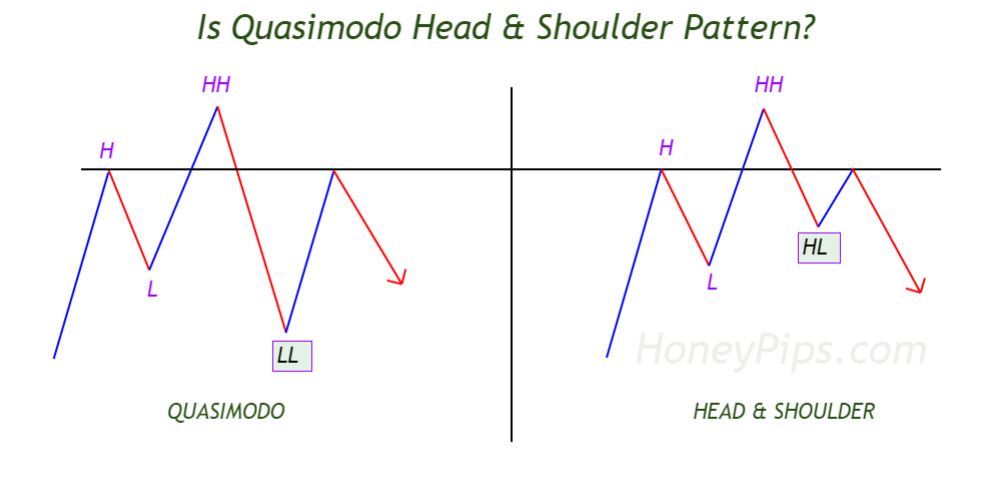 So, all Quasimodo pattern is Head & Shoulder Pattern, but all Head & Shoulder Patterns are not Quasimodo Pattern. To be a Quasimodo pattern, It needs one extra "qualification" that required price to move beyond a specified high or low to capture both buyers or sellers.
Is Quasimodo W/M Pattern?
The structure of Quasimodo consists of two engulfing, both up and downsides. But the W/M formation consists of one engulfing up or downside.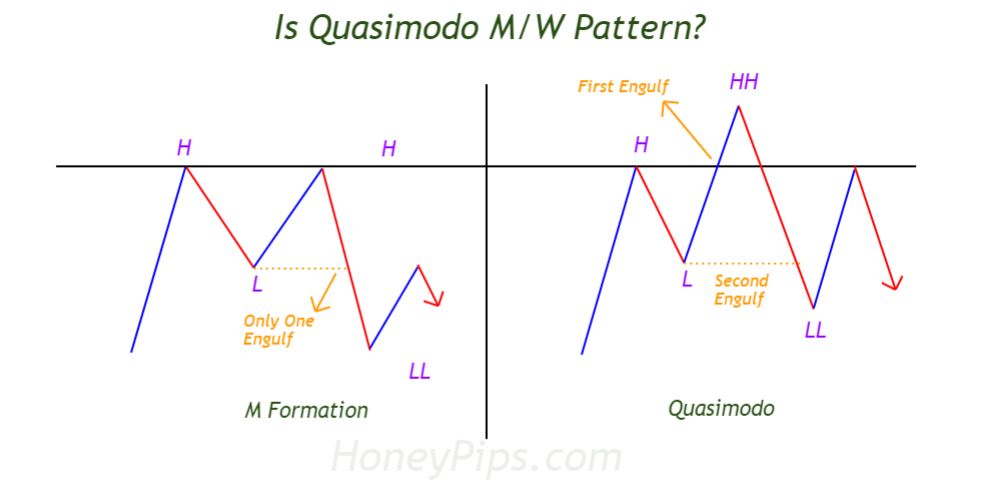 Where Will Quasimodo Generally Appear?
Quasimodo pattern appears at all time frames. It occurs always after a significant rally. Then the market is manipulated to create liquidity. Where the retail traders are captured, the profitable trading opportunity is created there. Quasimodo is very reliable if used properly and can be seen on every timeframe from daily down to 1 min charts.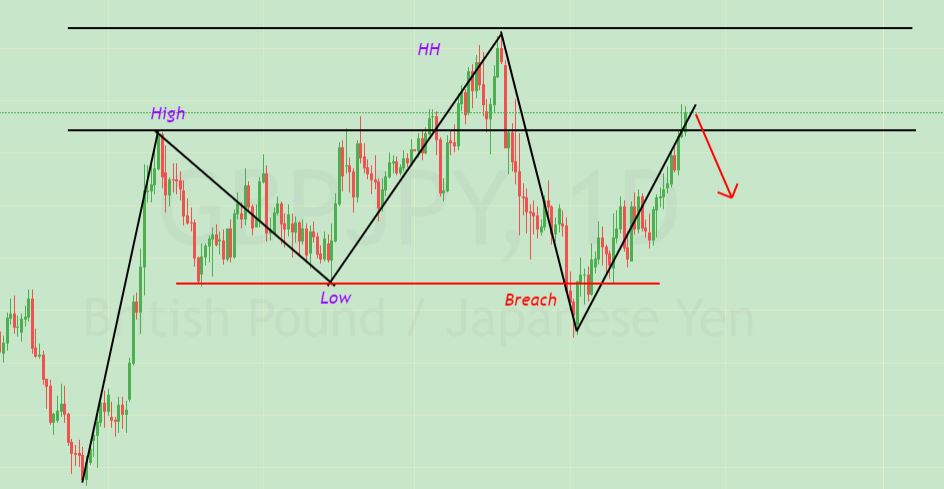 What Should Be Remember To Trade QM Efficiently?
Always look for fresh Quasimodo Demand/Supply zones, which are not tested yet.
Make sure the distance between QML and MPL is not too high. If the distance is so high, risk will be increased and the Risk Reward Ratio will be poor. So, when the zone is small, the risk is also small and the expected reward is big.
Never ignore level over level.
QM is more powerful when an authentic opposite zone is engulfed.
You can enhance your day trading strategies using this price action pattern.
Bottom Line
Quasimodo or Over & Under Pattern is not one of the most popular patterns among forex traders as it is a new entrant in the financial analysis sector in the financial markets. Although new, it is one of the most reliable and powerful patterns to trade. The Risk-Reward ratio potential of this reversal pattern is also good.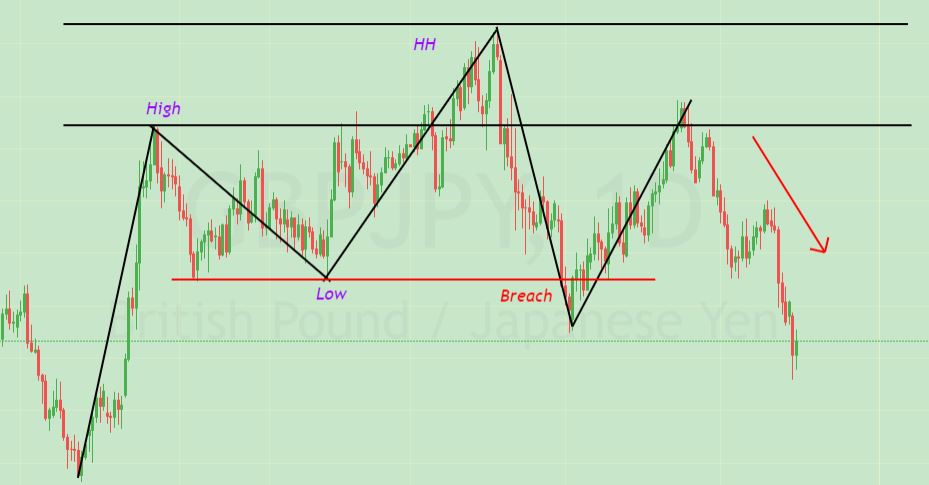 Understanding the establishing trend is an important factor for forex trading. Using the classical definition of higher highs and higher lows versus lower lows and lower highs is the right step to follow. If you do so, you can easily identify the Quasimodo pattern, even though you are a novice trader. No Quasimodo pattern scanner or indicator is needed to look for it. Your nacked eye is enough to spot Quasimodo Pattern in the chart and to boost up your confidence to execute the trade efficiently. This confluence price action pattern can flourish your overall supply and demand trading strategy.