Prices always create repeating patterns or trends in trading charts. Caping of price is one of them. It is a reversal price action pattern. Unfortunately, it is unknown to many traders. But it works most of the time and deserves our attention. That's why I am writing on this pattern. This article will explain the caping of price and how you can apply them to your own trading strategy.
Caping of Price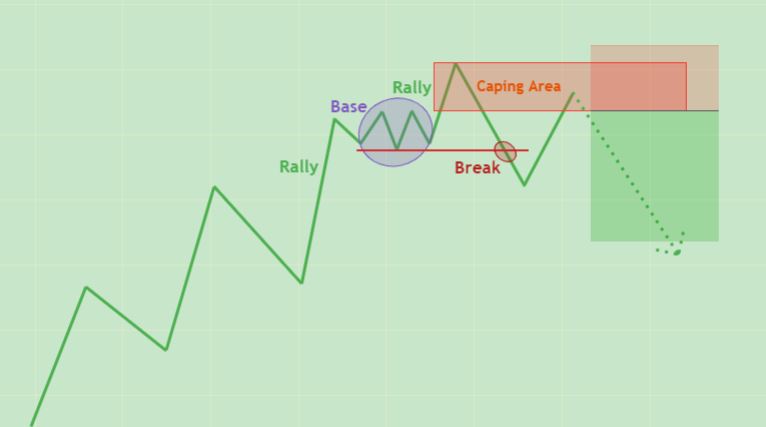 In the above illustration, we see the pattern of caping of the price. Here we see, prices constantly moving up with the bullish trend. A crystal clear upward movement. Right? Suddenly we see a little consolidation or a flag pattern. Then the market moves up a little bit then back to the consolidation area. Finally, it breaks the structure and continues to move down. Then it again makes a reversal to come back to the immediate high and reverse. This structure is called the caping of price.
How the Caping of Price Works
When the sellers push the market down and suddenly think the price is very low to sell, they start to buy. That's why price faces distribution phrase and creates consolidation. Then price pushes to the downside for the last time and reverses to engulf the flag pattern or the created pole. Price push back to the minor SR and reverse. That's how the caping of price works.
We can see this price action pattern in higher timeframes like H4 or daily. We can also trade profitably with this pattern in the lower timeframes. But it's better to trade with other confluence.
This type of price cap structure always indicates possible reversal for a long time.
Applying Fractals to Trading
Bearish Price Cap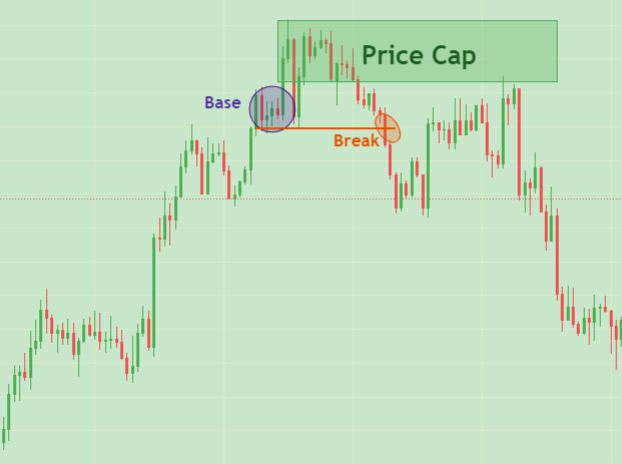 Market is uptrend
Create Rally Base Rally
Pushes back
Breaks the Rally Base Rally or flag area
Draw your zone in the caping area
Price reverse to the upside again
Execute your trade with an entry confirmation
Place your stop loss above enough with breathing room
You can also leave your pending order in the caping area. When the price comes back to the zone, your short trade will be executed. Actually, it depends on your trading style.
Bullish Price Cap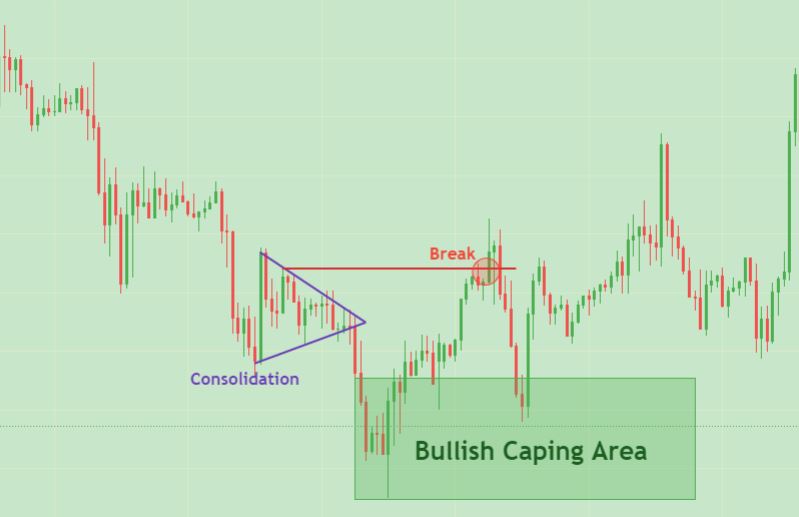 Market is downtrend
Create Drop Base Drop
Pushes up
Breaks the Drop Base Drop or flag area
Draw your zone in the bullish price cap area
Price reverse to the downside again
Execute your trade with an entry confirmation
Place your stop loss below enough with breathing room
Take profit should be up to next trouble area.
The Bottom Line
Caping of price works better than any other typical price action pattern. It increases the trading odds and boosts the win rate. As it is a reversal pattern, traders can easily identify it and trade it. It occurs amid more significant, more chaotic price movements. It may be a useful pattern when used in conjunction with other indicators and techniques. Caping of price can be used in various ways. That's why each trader may find their preferred variation.